Sales & Service Concierge at Fred Martin Nissan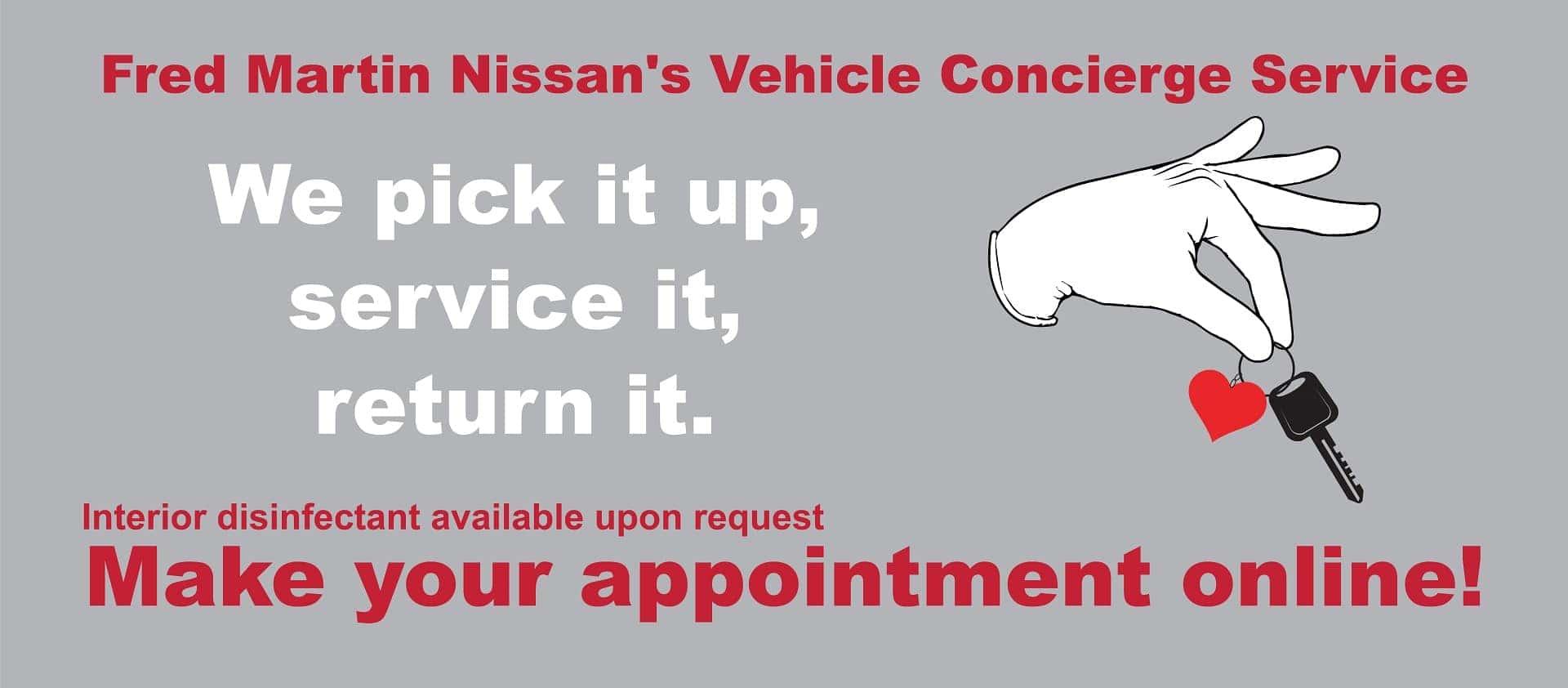 Sales Department Concierge:
Browse online, contact us for an at-home test drive
We bring the vehicle to you
Paperwork can be completed online or over the phone to complete the purchase
Vehicle disinfected prior to delivery at customer request
*Test drives may require credit and insurance verification. Mileage restrictions for Concierge Services are at the discretion of management.
---
Service Department Concierge:
Appointment made online or over the phone
We pick the vehicle up, service it, and return it
Vehicle disinfected prior to drop-off at customer request
Customer can pay remotely
*Concierge Service does not apply to appointments for Express Services. Contact a Service Advisor for more details.
---
Here at Fred Martin Nissan, it's NOT just business as usual.
We are here for all first responders, essential businesses, and people that need immediate vehicle service, parts, tows or vehicle sales to make sure you can be on the road when you need to be. We have changed as well. Like I said above it's not business as usual. We're here to ensure your personal safety is number one and we can deliver a clean and safe vehicle service and buying experience. We have added the following to our purchase and Servicing Process:
Fred Martin Nissan Home Delivery Service
Simply let me know what vehicle you need serviced and we will get it picked up or if you would like to see one you are interested in and I can bring the vehicle directly to your driveway, let you privately take the vehicle for a test drive by yourself.
Special Offers
As a special offer, first responders will get an additional $1,000 incentive plus no payments for 90 days on new and used vehicles! We also have 0% APR financing for up to 84 months on most new vehicles in stock right now. Plus Sub-vented lease specials on nearly all new vehicles as well. The best part is you can take delivery with zero money down, just sign and drive.
Video Chat Walk around
A virtual walk around on any vehicle that needs service or one you may want to look at so you can see it without having to leave home. Call to schedule an appointment to complete a Facetime or Skype call and I will gladly show you the vehicle. If it is acceptable to you we can then bring your vehicle to you or you can take advantage of our curbside service for your inspection and approval.
Curbside Service
Call to set an appointment to test drive or have a vehicle serviced. If you come here I can have it pulled up, disinfected and ready to go for you to take a personal test drive by yourself! Just call or text me when you arrive and I will meet you outside six feet away.
---
Our promise is to deliver a great safe buying and service experience while maintaining a clean and safe facility for our staff and customers. Ask about our special care and elderly services offered to those in need! We are available via text, Email or phone anytime!