"Rogue One: A Star Wars Story" Premiere Night A Success
"Rogue One: A Star Wars Story" Premiere Night A Success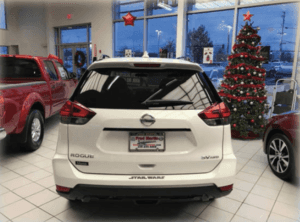 In celebration of the Nissan Rogue Star Wars Edition, Fred Martin Nissan
hosted a special event to commemorate the release of the latest incarnation of
the Star Wars franchise. For several weeks at the end of 2016 we gave away two
free tickets to the premiere of "Rogue One: A Star Wars Story" with the purchase
of any new Nissan. A theater was open only to customers of Fred Martin Nissan,
truly making it an exclusive event.
On the evening of Friday, December 16th, the theater was packed full of
happy Nissan customers who purchased a new vehicle from Fred Martin Nissan!
The Nissan Rogue is a compact crossover that has become Nissan's bestselling
model in the United States. It set another record in November, with sales up
18% compared to last year. The release of "Rogue One: A Star Wars Story"
roughly coincided with the arrival of a face-lifted 2017 model, so it only seemed
natural for a partnership to occur.
With the movie's release also came the release of the 2017 Nissan Rogue:
Rogue One Star Wars Limited Edition. This vehicle is the first production vehicle
in the films 40+ year history to feature Star Wars- branded elements. Only 5,000
of these vehicles were produced, and Fred Martin Nissan quickly sold out!
We hope that all customers that attended had a great time. May the force be
with you!