Nissan Award Of Excellence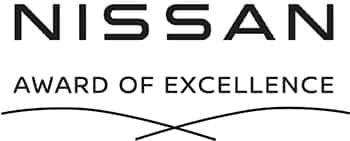 Nissan's Award of Excellence program recognizes and rewards employees and dealerships who consistently deliver outstanding results/performance in sales, customer satisfaction, and owner loyalty. This prestigious award recognizes Nissan's top dealers from across the country who were able to meet the high standards of achievement for the Nissan Award of Excellence.
The Nissan Award of Excellence distinguishes Nissan dealerships that personify the principles and vision for Nissan – which is, to provide customers with outstanding ownership experience, starting from the showroom and continuing through each facet of owning and maintaining a vehicle.
All Nissan dealerships across the nation are measured on a multitude of criteria including Nissan's New Owner survey, which was sent to every Nissan customer following the purchase of a new Nissan vehicle or service on a current Nissan. Fred Martin Nissan is proud to have won this award 6 years in a row.