Collision Center & the Soap Box Derby Car
Collision Center Paints Old Trail School Soap Box Derby Car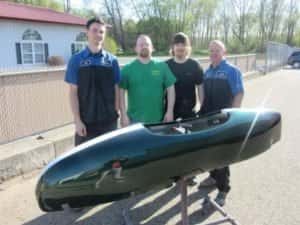 Fred Martin Collision Center was pleased to have had the opportunity to paint a super stock car for Old Trail School in Bath, Ohio.  Team "Raging Stampede" is comprised of nine students spanning grades 5 to 8.  The team will race on May 20th against other schools in the region during the 2017 Soap Box Derby Gravity Challenge at Derby Downs in Akron.
This is the inaugural race and first team for Old Trail School.  The students built and designed mini-cars to learn about weight and forces acting upon a car, learned a bit of the history of The Derby in Akron, and built and designed the car.  They also partnered with "Start-Up Sharks," an entrepreneurship club, to plan the car color and design, solicit sponsorships, and design team t-shirts to sell at school.
We wish "Raging Stampede" best of luck on their maiden journey down "The Hill"!