2019 Nissan Altima – Autotrader's 2019 Best New Car
When looking for a vehicle that checks all the boxes as the perfect vehicle for you or your family it can be overwhelming at times the amount of vehicles to chose from. With more than 300 plus vehicle models available, with endless options of technology, safety features, drive trains, styles, makes, models and trim levels, where does one start? Well the experts over at Autotrader have been spending the past year testing nearly every model on the market and have compiled a list for the best of the best.
In our corner, the 2019 Nissan Altima was selected as one of Autotrader's 2019 Best New Cars! The team were impressed by how much the All-New 2019 Nissan Altima had to offer with its new 2019 refresh. Debuting Innovation Mobility features, the Altima improves the overall look of the car with a sleeker and more stylized exterior and roomier interior. Also highlighting the vehicle are the new high-tech 4-cylinder turbo engine, all-wheel drive option and smart driver assist features.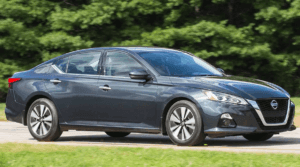 The Autotrader 2019 Best New Cars were chosen on a wide-ranging set of criteria, including interior comfort and materials, build quality, available features and ride quality. Each vehicle was agreed upon unanimously by the entire editorial and data team at Autotrader. To be considered, a vehicle must be of the current or next model-year and available for purchase at the time of the awards announcement. The price of vehicles were also capped at $75,000, meaning the cars and trucks on the list offer a significant value for the asking price.
To learn more as to why the team over at Autotrader chose the 2019 Nissan Altima, come to Fred Martin Nissan today and take a look for yourself. We have many Nissan Altimas for you to look at. We are located 3388 S Arlington Rd, Akron, OH 44312, or visit FredMartinNissan.com to view our inventory online today!